Holiday Party at the Phoenix Zoo!
Date:
Monday, December 3, 2018
Location:
The Phoenix Zoo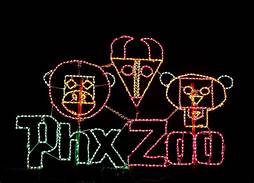 Join us at Zoolights!
| | |
| --- | --- |
| Sponsored By: | |
The evening schedule:
5:30 - 6:30 pm: Cocktail Welcome with an up-close Animal Adventure! (Animal Adventure includes 2 animals for an informal meet & greet led by one of our Living Collection staff member.)
6:30 pm-7:30 pm: Dinner followed by dessert, and a coffee - hot chocolate bar.
8:30 pm-10: 30 pm: Stroll through Zoolights!
Join us at the Phoenix Zoo!
CAEPC does ask that your guests be 21 or older.
Dinner Menu:
Passed hors-d'oeuvres
Coconut Chicken Bites Hors D'Oeuvre: Sweet Chili Sauce
Asiago Stuffed Dates Hors D'Oeuvre: Honey-Cured Bacon and Smoked Paprika.
Buffet Dinner -
Antipasto Tray: Balsamic Marinated Cipollini Onions, Pepperoncini, Roasted
Pepper and Petite Mozzarella. [V]
Honey Lemon Marinated Fruit Salad: Stonefruit, Strawberries, Grapes,
Blueberries, Pistachios and Honey Lemon Glaze. [V]
Sauteed Chicken Breast: Artichoke Hearts, Sun-Dried Tomatoes, and Marsala Wine Sauce.
Grilled Flank Steak: Garlic, Rosemary and Black Pepper.
Spring Vegetable Cavatappi: Baby Spinach, Artichokes, Broccoli, Asparagus,
Plum tomatoes, Red Onion, Summer Squash and Mushroom Sauce [V]
Rosemary Roasted Potatoes: with Asiago Cheese. [V]
Caramelized Carrots: with Pearl Onions and Zucchini. [V]
Country Bread, Foccacia and Ciabatta with Extra Virgin Olive Oil. [V]
Gourmet Coffee Station [V][L]
• Featuring Regular and Decaffeinated Caribou Coffee
• With Shaved Chocolate, Whipped Cream, Cinnamon Sticks and Assorted Flavored Syrups
Hot Herbal Tea
Hot Chocolate with Whipped Cream 150.00 3 450.00
Mini Dessert Array
Limoncello Tartlets, Turtle Brownie Bites, Petite Cheesecakes, Caramel - Hazelnut
Tartlets, Almond-Chambord Raspberry Cakes, Chocolate Dipped Fruit. [V]